Spoke Art
816 Sutter St.
San Francisco, CA
Friday, January 13 2012 @ 07:00 PM – - 09:30PM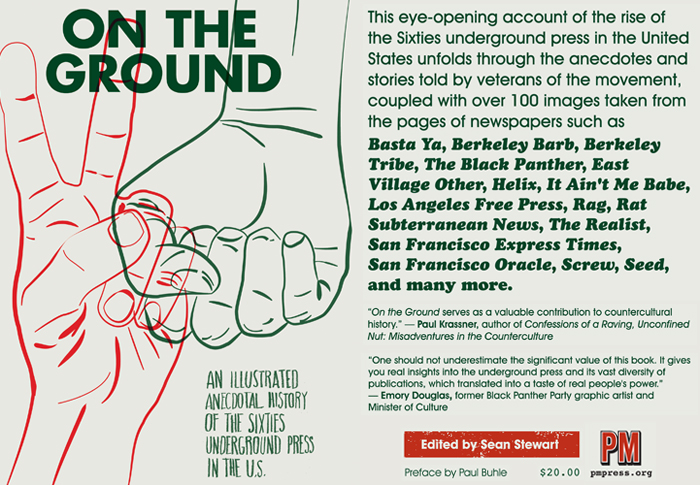 First I would like to apologize for confusing Sean Stewart's name with another Sean I know named Sean Summers.  The two are in no way related and I always confuse their last names.  I am very sorry about missing this in my blog editing before last nights post about the book signing went out.   That being said, SEAN STEWART is still in town!!!!!  Tonight he is holding an amazing showing of the actual underground press papers which his new book " On the Ground…" is about.  It is a pleasure to have Sean back in the Bay for a short and highly productive visit and I hope you can all get a chance to go check him, Emory, Trina, and possible other famous underground personalities out at Spoke Art on Sutter St.  Info is pasted below.
Join Sean Stewart for a one night exhibit of underground newspapers from his collection featured in his new book release On the Ground: An Illustrated Anecdotal History of the Sixties Underground Press in the U.S..
Sean Stewart will also be hosting limited edition Emory Douglas print release that same evening .
About Sean Stewart:
Sean Stewart grew up in Kingston, Jamaica. Between 2007 and 2009 he owned and operated Babylon Falling, a bookstore and gallery in San Francisco. He now lives in Brooklyn.
About the book:
In four short years (1965–1969), the underground press grew from five small newspapers in as many cities in the U.S. to over 500 newspapers—with millions of readers—all over the world. Completely circumventing (and subverting) establishment media by utilizing their own news service and freely sharing content amongst each other, the underground press, at its height, became the unifying institution for the counterculture of the 1960s.
"Neither meant to be an official nor comprehensive history, On the Ground focuses on the anecdotal detail that brings the history alive. Comprised of stories told by the people involved with the production and distribution of the newspapers—John Sinclair, Art Kunkin, Paul Krassner, Emory Douglas, John Wilcock, Bill Ayers, Spain Rodriguez, Trina Robbins, Al Goldstein, Harvey Wasserman and more—and featuring over 50 full-color scans taken from a broad range of newspapers—Basta Ya, Berkeley Barb, Berkeley Tribe, Chicago Seed, Helix, It Ain't Me Babe, Los Angeles Free Press, Osawatomie, Rat Subterranean News, San Francisco Express Times, San Francisco Oracle, Screw: The Sex Review, The Black Panther, The East Village Other, The Realist, and many more—the book provides a true window into the spirit of the times, giving the reader a feeling for the energy on the ground."
Tags: art show, bay area, Book Release, On The Ground, San Francisco, Sean Stewart, spoke art, Underground Press